We offer for sale AXA DBZ machining centre
The AXA DBZ machining centre is a CNC milling machine equipped with a Siemens Sinumerik 840d control system. It has a 2 x 1000 x 500 mm table and can machine pieces up to 700 mm in the X-axis, 500 mm in the Y-axis and 600 mm in the Z-axis. The spindle can rotate at up to 6,000 rpm and is powered by a 30 kW drive. Spindle cooling is provided by pressure cooling to 30 bar. The milling machine has 22 tool changing positions and the tool holder is type SK 40. The milling machine was manufactured in 2006.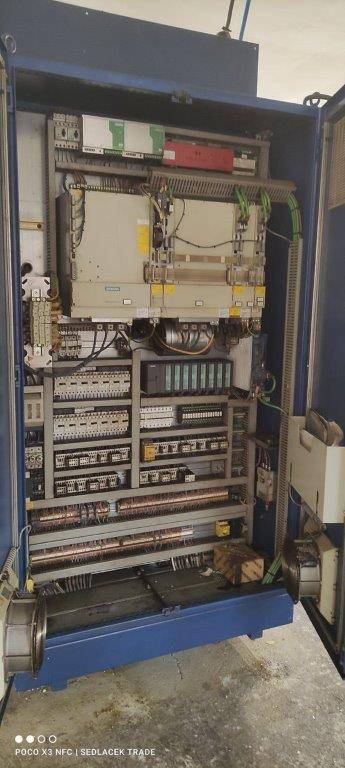 Introduction of AXA CNC machines: production and service of machine tools
It is a German-Czech company with a tradition of 57 years in Germany. We have been operating in the Czech Republic since 1992 with a focus on multiple brands as Warep s.r.o. Subsequently since 1999 as AXA CNC machines s.r.o., a subsidiary of our parent company AXA Entwicklungs- und Maschinenbau GmbH, focusing only on AXA brand machines. In our area, machine building and servicing has a great tradition thanks to TOS Žebrák, where most of our original employees used to work. The machines are manufactured in the parent plant in Germany and smaller machines are also assembled and eventually overhauled in our production and assembly facilities in Hořovice.
We offer 3 to 5-axis milling and multifunctional milling-turning machining centres. We have four basic type series. All type series are always available in high speed machining with ISO40, HSK-A63, BT40, Capto C6 and robust machines for heavy and power machining with ISO50, HSK-A100, BT50, Capto C8.
All machines are highly configurable with options and are always built to the specific requirements of our customers. The work area of most of the longer machines can be divided by a partition into two smaller independent work areas for productive machining of smaller parts and can be combined again in a minute into one large work area for machining larger workpieces.
Type series VCC, DBZ
Smaller three-axis machines with mobile stand and possibility of expansion to 4 or 5 axes. DBZ machine with two independent working areas and common tool exchange. VCC50 machine as a smaller high-performance machining centre.
Type series VSC, VHC
Medium and large 3-axis machines with mobile stand, in the case of VHC as 5-axis with tilting spindle and integrated table, or standing table and counter-bearing. Any combination of these NC-turn tables is possible. The machines can also be supplied as multifunctional with turning.

The machines can also be supplied as multifunctional with turning.
Type series PFZ, UPFZ, VPC 2800-U
Large gantry 3 and 5-axis machines with lower gantry guide, for precise multi-sided or full 5-axis machining of large workpieces. The machine can also be supplied as a multifunctional machine with turning.